Happy Friday!!!!
Wait...it's only Thursday!?!? Are you kidding me!??!! This week just can't go by fast enough.
This will be me tomorrow when I leave work:
Anyhoo. I was planning on not even linking up for NSV this week because I've just been running this week and I didn't want to sound like a broken record. But this morning something wonderful happened!!!!
I ran my fastest mile in as long as I can remember!
12:49/mile is probably really slow to a lot of people. But do I care? Hellll naw! It hurt, not gonna lie. And I'm going to try really hard to not be disappointed if I don't have the same or better average tomorrow. But Whatever. Happy NSV to me!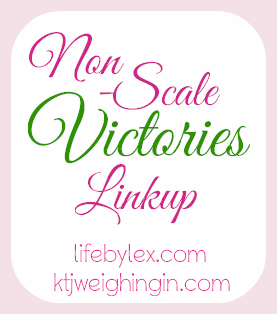 Oh, and someone just brought a pizza into the office, and I'm not having any of it. Boom.
It really must be a cold day in hell, huh?
And now for the linkup I was planning on participating in all along...a letter to my 21 y/o (or college) self with Jake & Holly. I'm writing this to my college self because I was a baby and didn't turn 21 until the first semester of my senior year. Yeah, being underage almost your entire college career is super fun. So here it goes!
Dear Tiger Nicole,
OK. At this point you're probably thinking, what the heck do you mean "Tiger"? I'm a Husky! Wrong. In a year, you'll be a Tiger. You're going to do a lot of growing up, FAST, during your year at Northeastern. At first you'll hate it, then you'll make some amazing friends by joining Kappa Delta (by the way, quit being a chicken shit and go through rush), and you won't want to leave. But you're going to have to because the economy goes to shit in about a month and, well, you couldn't afford $48k a year before, so now you really won't be able to!
Just go with it
. It's all for the best.
You'll learn that transferring to a state school in California isn't going to be as simple as you thought it would be, and your only real option to stay in a University, not a JC, is to transfer to Tennessee, where your dad can get you in-state tuition. You'll visit a few different schools but get sold on Memphis, and I promise,
you'll love it.
Don't be nervous when you move into your sorority house knowing hardly any of your sisters there, they're YOUR SISTERS and they love you right away. There's some good girls there, so get out of your comfort zone and get to know them all. And don't worry, you'll stay in touch with your Northeastern sisters too, and your amazing roommate Sarah, because she transfers to Vandy and is now only 2 hours from you. Now listen...GO VISIT HER. Even though you don't have the gas money. Even though you want to stay on campus and go to a frat party. Go. To. Nashville. And. See. Sarah. She can't come see you without a car but she was the
best
thing that ever happened to you in Boston.
Really quick, get over the jackass who broke your heart after you graduated high school, and don't drive 5 hours to see him at his new army station. He's never going to change. Literally, ever. I'm writing this to you over 5 years later and he's
still
the same pathological liar he was before, just now with PTSD. Not a good combo.
Stay away
.
The next 3 years you're going to meet a guy you think is
the one
. Then go through what you *think* is a heartbreak and within a few months be dating
another
boy you think is the one.
He's not
. And he will hurt you harder than anyone ever has. But through a weird twist of fate he will stay in your life, and that's ok. You become grownups and
move on
. Then you'll
really
meet the guy you actually talk marriage with, and love enough to be in a relationship long distance with for over a year (verrrry lonnnnng distance). You'll make some major mistakes throughout that relationship, but you'll learn from them and move on. I wish I could tell you where that situation will end up going, but at this point it's lookin' like he ain't the one either, honey. So
go with it
and enjoy the ride I guess!
Now back to friendships. Don't risk your friendships because of stupid boys. They will never be worth it--at least throughout your college years. You're going to learn this lesson the hard way and it's going to suck really bad. Just remember what I told you about Sarah.
Another bit of advice: Start budgeting!!! It's no fun getting an email notification
every single week
(sometimes more than once a week) that your bank account has less than $25 in it. You come from broke parents.
Just get over it.
All I can really tell you is that yes, it's going to be hard at times in college. And you're going to have a lot of ups and downs. But just
enjoy it while you can
because it goes by SO FAST. And like
Jake
says, graduating in 4 years is like leaving a party at 9:00. So if you feel like going an extra year, go for it. All you're going to do after you graduate is move home and spend a year at a job you hate. And you could probably get the same great job you now have if you take another year to graduate :)
And a few random tips:
Don't ever open a tab at a bar. You can't afford it.
Colton is an ass hole and you're too pretty for him anyway. Listen to your friends and sisters and move on.
John is actually a bigger ass hole than Colton, and they are fraternity brothers and you shouldn't even go there in the first place.
Don't ever take 12 shots (of different types of alcohol) before your sorority formal, especially when your date's name is Rowdy. The outcome is not good.
Be wise with your fake ID. It's from Tennessee, looks nothing like you, and says you should be 4 inches shorter than you really are. Don't try getting into a place in downtown San Diego with it. Oh, and it might be helpful if you learned what astrological sign you're supposed to be (hint: it's not Aries).
Yes, the freshman VP of Standards and you hate each other, and the way she got that position is still questionable, but get over it. Be nice, smile, and behave yourself (at least in public). It will save you a whole heap of trouble.
If you have a red solo cup full of box wine you don't want to dump out because you're going to drive around the corner to the next frat house, WALK. I'm going to tip you off here and tell you that you get extremely lucky when it comes to drinking and driving throughout college, but for god's sake, don't even tempt it!
Alright, you little Tiger, you, have fun and godspeed!
Sincerely,
1 year post-grad You
And I'm totally copying Holly and placing a fun little photo montage here. Luckily, being in a sorority doesn't allow you to post too many scandalous photos onto fb and get away with it. So this is about as silly as they got.
Reading this back to myself I'm happy to see a common idea that I wish the college-me could have understood: getting over shit and moving on. I have finally realized and been able to admit that I'm a major grudge-holder. I hold onto things and ways that people have hurt me and I just can't let them go. Well, I used to not be able to, anyway. At this point there are some things from the past that I still have a hard time letting go, but when new things happen I've gotten much better at just letting them roll off my back and moving on with my chin up. It's better for you in the long run either way, and that's what really matters.
Can't wait to read everyone else's letters and about their NSV's!