Hey fancy ladies! And any sweet boys who may be reading :) It's hump day and it's a GREAT one!
So I decided to link up for What I'm Loving Wednesday, and with one of my new favorite blogs for Oh, How Pinteresting!!
First of all...things I'm loving this Wednesday.........
MY JOB. I feel so blessed to have a job at all considering the economy, and one that I actually enjoy. I had a job I hated for almost a year after I graduated college, and I realized I need to stop wasting time in an industry I don't see a career in and start from the bottom in the industry I DO want a career in: Hospitality. I love working at this resort, and even though I'm going through some struggles adjusting to the pay cut/much longer commute (in a gas guzzler, in Southern California), I am thankful. Because we have things like work picnics:
And celebrate birthdays:

Happy birthday to my awesome co-worker Jessica! She's
obsessed with Marilyn Monroe and PB&J....so the snacks are
mostly themed around PB&J haha
2. Styles for Less. I love this store. You can get pretty much all those cute clothes you see on Pinterest that are sold at online boutiques for like 40 bucks or more, for like $25 bucks or less. I bought this dress yesterday (excuse the lack of makeup and my hair thrown up into a pony tail):

My name is Nicole, and I am addicted to maxi dresses.
3. I just ordered this dress from Kiki La'Rue's Moving sale (shop their clearance and use code MOVING for 50% off!!!! Almost all larges are gone, but I found this one!!!)
***I'm a little worried about how it will look and it's non-refundable, but oh well. I was nervous because the picture of Mama Laughlin in it wasn't too flattering......I love me some Mama Laughlin but it just made her look bigger. But then I found a picture on KLR's Instagram of MeganCard in it and it looked MUCH better. She was in a medium, and she had a much more similar build to me than Mama Laughlin (uh hello ML has big tatas :) and I have big tatas but not big like her!), so I think it'll be ok!
4. These new blogs I've stumbled upon:


Found when stalking KLR's instagram for another
picture of that dress. I'm in love.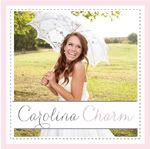 Found via pinterest and I'm obsessed. And...
She's a KD!!! Holla, sistaaaa!!! AOT.

Found through this linkup. I like it :)
Now onto the Oh, How Pinteresting Linkup!
This Sunday is my CAbi Party and I'm so excited! Bitches better buy shit. Anyway, since people will be trying on clothes I wanted to keep the food light--as much as I love chocolate. So here are what I'll be making, thanks to Pinterest:

Mini cheesecakes. I've made these before, thanks to Sinnytaste,
and they're awesome. They're made with Greek Yogurt and low-fat
cream cheese and a nilla wafer for the crust. Yummyyyy.

Lemon brownies. Enough said.

And these things.
 And to drink....

Strawberry Lemonade Champagne, thanks to
Carolina Charm (my sister haha)
Sounds like a good menu, right? Hopefully the champagne will loosen people's inhibitions...and wallets :)
Anyhoo. I hope you're all having a good a Wednesday as I am. I can't wait to read everyone's posts!

Later, y'all!