Again, Happy Memorial Day!!!
I hope everyone who has today off is enjoying it. I unfortunately am at work. Womp wompppp.
But yesterday was a great day! I went to the beach with my sorority sister/best friend and her husband and some of his friends and had a great time. But I'll get to that later. My weekend started on Friday night.
First off, when I got home I had 3 wonderful presents waiting for me.
1) My CAbi shirt that got backordered over a month ago!! Hollaaaaa. 2) My Kappa Delta Alumnae t-shirt (which for some strange reason I accidentally ordered a small in. Technically it's a medium because of the company's sizing, but still. I guess that's some motivation lol.) 3) My dress from Kiki La'Rue!!!! Whatcha think???
Then I went with some girlfriends to a local hot-spot-ish kinda of place, Lei Lounge. If you live in San Diego, GO! The food is a little bleh considering the pricing, but the drinks are amazing, and the atmosphere is so fun.
I know it's a bad photo, but it's the only one I have :(
Then we went to a bar next door called Bourbon Street Bar and Grill. Again, if you live in San Diego, go! The last time I went to Lei Lounge I wanted to go into Bourbon Street because it looked super fun. So when we walked in and it looked like a small, boring bar I was a little disappointed. Then Lindsey (far left) and I went to the bathroom and discovered the outdoor area is AMAZING, we changed our minds. It reminded us of a smaller Silky O'Sullivans in Memphis. Brings back memories...haha.
Then this guy came around with shots...
That's University Heights for you :)
And one more of me and Lindsey:

Saturday I had to work. Lame. But I got off early and got my nails done:
Color is Lobster Roll by CND Shellac
If you live in San Diego, go get your nails done by the amazing Olga Naumkina! She just started her own business,
Creative Nails by Olga
, in Old Town (yes, those are my hands in one of the pictures on her yelp page!). She's amazing and I just love her. She also wanted to try out a new product from CND, vinyl polish that dries in 7 minutes and is supposed to last 7 days without chipping, so ya know, I let her give me a free polishing :) It dried right away and I haven't had any chipping yet! You can see the polish in one of my pictures below.
Then I went to Incahoots with some girlfriends. No fun pictures to share :(
I decided to cancel my CAbi Party. I'll be having one (probably joined with my friend Cassandra) in the Fall.
So instead of hosting the party, I went to the beach! It was such a gorgeous day. And I managed to only get a mild sunburn on my boobies.

All packed up! Love that monogrammed bag from ThirtyOne.

Just another day in Paradise.

I love me a good floppy hat. And an American Flag bikini.
Spending the day at the beach on one of the Navy bases just felt right. I know I posted this on Friday, but I hope everyone takes some time between the drinking and grilling today to remember the true meaning on Memorial Day. God bless those veterans who have lost their lives fighting for our freedom to have days like my day yesterday!
So this morning, Winnie definitely did NOT want mommy to go to work. Can you blame her?

Sad puppy :(
 Alright, enough of the fun stuff and onto my weekly goals.
Just kidding, weekly goals ARE FUN! Especially because I can finally work out again!!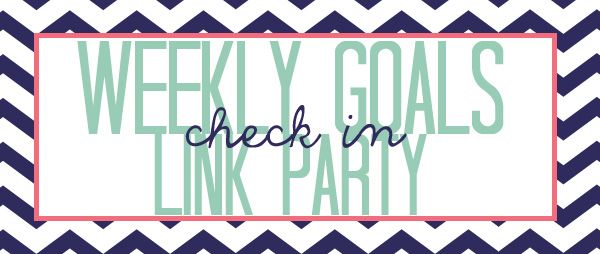 Make it to the gym Tuesday, Wednesday, Thursday, and Friday!

Make myself sweat and work hard without hurting my toe.

Track on myfitnesspal daily--and maybe actually complete and entry for once! 
I can't wait to read everyone else's goals and finally give y'all a fitness-related post soon!
Happy Memorial Day, y'all!