Yes, I know, I posted 7 goals for this summer yesterday. But goals are not the same thing as a bucket list. Some goals might be ON my bucket list, but there's lots of other crap too :) I'm linking up with Holly and Trista today.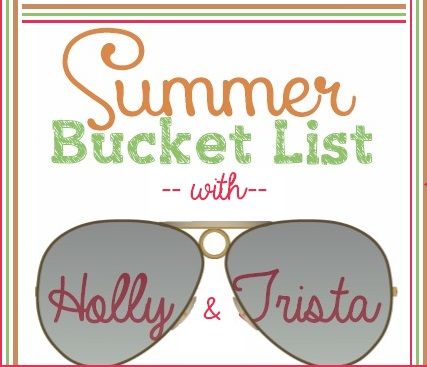 So here it is (in no particular order):
Country concerts!!!!! The local country station puts on an amazing concert series here in San Diego every summer. It kicks off next weekend with Tim McGraw (and Brantley Gilbert!!!!), and a few weeks after that is countryfest, one of my favorite days of summer. I'm super excited that this summer I'll actually be able to go to ALL of them. Every other summer I've had to go back to school before the late-summer ones.
Independence Day 5k--I posted about this a while ago and this is also on my Sweet Summertime 7, but it's definitely a bucket list item as well. I sure hope my toe will allow me to TRAIN in the next few weeks.
Get fit. Enough said.
Camping! I'm decently outdoorsy. Especially considering how much of a princess I am. But I love to be outside and I love to fish, so yesterday I booked the first of a few camping/fishing trips I want to take this summer!
Beach time. Obviously. I live in San Diego and I assure you, I do NOT take our beautiful beaches for granted.
Blogging. I really, really want to maintain this blog this summer and continue to grow it! I love the connections I've made so far, and I hope those connections continue to grow.
Crafting. I was kind of a crafting queen in college and just haven't found the time since I've been a boring alumna and all. So this summer, I will craft. The biggest project I want to do is re-finish a few of my bedroom furniture pieces.
Wine tasting! We all know I'm a wino. I want to become a more refined wine-taster this summer (re: the picture of me drinking out of a 38$ bottle of wine at a nice winery in Temecula) and join a wine club! I just have to find the right winery.
Cooking! This is something I've also always loved to do and just haven't done much of lately. But last night I made a yummy meal from scratch (follow me on Instagram and you'll see), and I want to continue this.
So there you have it. I love bucket lists. And I love summer. So I can't wait to read everyone else's lists!
I just know Summer 2013 is going to be a great one.
Now I have the day off and am going to finally get my oil changed. It's only 2000 miles overdue......whoopsies!
Also, tonight is kickball! I will be playing 100% tonight. That means kicking and running too :)
And to update everyone on my toe situation, I went to the gym again last night and did 20 minutes on the elliptical. I pushed pretty hard but I could definitely feel my toe aching with every movement. Tomorrow I plan on going on one of the spin bikes. Spin is supposed to be a great conditioner for running!
Alright enough is enough. I hope everyone has a wonderful day, and happy summer, 2013!!