Hey fools. Sorry for the absense yesterday. Let me explain. We all know I work at a very nice resort, which just happens to be less than a mile from the Del Mar Racetrack. Yesterday was Opening Day at the track and my work has a huge afterparty every year (we're talking $100/ticket, $3500 cabana rentals, etc.). So we were all going to be working major overtime sooooooo everyone brought all this food (not healthy food either) and set it next to my desk on an empty desk, and I munched. All. Damn. Day. Then I had to pee. I walked out to go to the bathroom and immediately felt self-conscious like I never have in my life. It was like I was in high school and actually hated my body and the way I looked (which I didn't when I was in high school). I just felt out of place with all the rich surgeried women walking around in their tight dresses and big hats. And all I was doing was going to the bathroom. I actually went downstairs to avoid being in the bathroom with any of them. WTF IS WITH ME LATELY?! I'm 20 pounds and a size down from where I was 6 months ago. But I feel worse than I did about myself. I also feel a zit coming in on my chin and am convinced it's because I've been a slobby pig lately. it's probably because I'm PMSing, and that's probably why I also feel bloated, but either way, I do not like how I feel right now and it's really bumming me out. I went for a run on Monday when I got home from work and I was so sluggish. Something needs to change. I know what it is: I need to just MAKE MYSELF work out and watch what I'm eating again. I just feel hopeless. I hope you all don't hate me if I decide to go onto a strict under 1300-calories per day diet, because I'm thinking that drastically at this point.
Anyway. I got called out to the will-call table around 5, and boyyyyyyy did I have a major come-to-jesus moment about drinking in public!!! First of all, why are rich people so weird?? The things they do and the clothes they wear....there are no words. The weirdest outfit I saw was what I'm pretty sure was a one-piece bathing suit with a flapper-esque fringe along the thighs, and some beading around the neck. And guess where she was?! In the press/media lounge!!! What?!?! And then, if people are really as rich as they try to act and let on, I really don't think they'd be trying so hard to get into a party for free instead of just paying the hundred bucks. I'm onto you, bitches. Supposedly I met the Vice President of MGM. Not the movie studio. The hotel in vegas. UHYEAHRIGHT. I doubt he would be caught dead at a hotel party in San Diego. Get real.
Oh and here was my outfit (it's obviously tradition to wear a big floppy hat on opening day, and as a staff member I had to wear all black):
Among other things, I really need a tan.
Sorry for my ramblings. The whole thing was an interesting experience, and I'm glad it only happens once a year!!!
Enough of that shit. Moving on to one of my favorite linkups with Holly and Jake! It's Finish-the-Sentence Time, y'all!!!!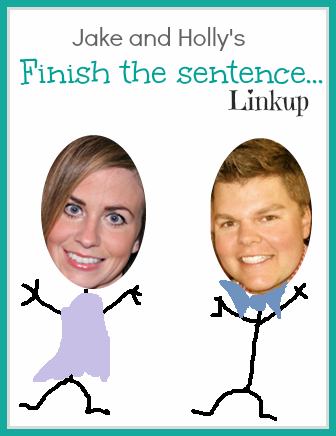 If I had one extra hour in the day...
I'd use it to sleep. Because I'm lame/lazy/fat/slightly lethargic.

I wish my name...
was...what? I like my name. I guess if I could change it in any way it would be my last name, just to be something more original. Edwards is pretty standard.
I think anything chevron is...
generally awesome. Unless it's on every single thing you own/every crevace of your living quarters.
My last nightmare...
Was about dinosaurs. Yes, dinosaurs. I don't think about them on a regular basis, so I have no idea where the hell it came from. But they were taking over the world and turning all us humans into them. I have no idea.
Sometimes..
.I like to think about nothing, you know, like boys do. Most of the time us girls can't wrap our over-active brains around how men are able to sit and literally think about nothing for a period of time, but I actually enjoy it every once in a while. It usually only lasts about 3 minutes and consists of me driving and all of a sudden realizing I'm almost home and don't remember the last 5 miles, which sounds dangerous but it's all good!
My last meal on earth would be...
Ok. I've thought about this a lot. It would be a Bluez 57 Burger from Huey's in Memphis, with an order of their cheese fries with a big side of ranch to dip them in. And of course a giant sweet tea with unending refills. And then I'd follow it up with a piece of flourless chocolate cake. Or the whole cake. Can you tell I'm trying to die of a heart attack? Just kidding. I hope I didn't just jinx myself.
I would much rather be_____ than____.
A size 8 than a size 12. I probably still wouldn't be happy with myself, but oh well. It's a nice thought!
Mayonnaise...
I'll be honest. I like mayo. I'm not obsessed with it and I sub greek yogurt for it a lot, but I think it has a nice flavor when used sparingly! On a burger and such. I also like to put a dallop in my guacamole...trust me people, ask anyone who knows me and they'll tell you I make awesome guacamole.
10 years ago, I didn't think...
That boys were cute or clean. I definitely thought boys had cooties up until I was a freshman in high school pretty much. I still think they're gross (no offense Jake) and weird, but I appreciate them more now than I did then :)
Selfishly...
I wish I made more money than I do. I know I need to work for that. But I just want it to happen now, dammit!
My favorite show on TV right now...
Always Real Housewives, but right now it's Real Housewives of Orange County. I love those crazy bitches. Except Gretchen. She sucks. And she needs to learn how to pronounce words like "something" (which she has said "sun-theeeen" for the last however many years she's been on the show and "fury" which she recently pronounced "furry." Dumbass.
And, George Zimmerman...
Ugh. Really, Holly and Jake???? I halfway spoke my peace about this in my last post but I don't mind discussing my thoughts again haha. I don't think he was a racist. I don't think he should have gotten out of his car. I do think he had the right to defend his life with his legally-owned firearm when a physically fit young adult (quit calling Martin a kid. He was not a child) was bashing his head into the concrete. There ya have it.
Well I guess that's all I got! Have a great Thursday, y'all! Tomorrow's Friday!!