Happy hump day, y'all. Today I'm super excited to link up for Greek is Greek!!! If you've read my blog for pretty much any length of time, you probably already know I am a proud Kappa Delta Alumnae.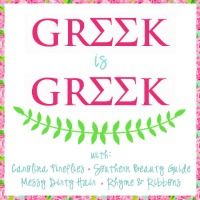 "Ta kala diokomen: Let us strive for that which is honorable, beautiful, and highest."
I actually went through recruitment at Northeastern University, my freshman year. Wanna know a secret? I had signed up for it over the summertime, and I hated Northeastern so much my first week that I decided I just wasn't going to do it. I had ignored an email from my Recruitment Counselor (I don't even rememeber what they were called there, that's how old I am), and then on the day of recruitment she called me and asked what the heck was up? I decided, what the heck, I'll just go. I had already paid for it. So I got dressed and went, having no idea what I was in for. I hadn't done ANY research, gone to ANY pre-recruitment events, and knew nobody. And I'm glad for that, because I based my opinions of the sorority's completely, 100% off of how I felt in those rooms, not at all based off of their campus reputations. Of course, I could get a feel for the kids of girls they were, but I didn't know how they were viewed by the rest of the community at all.
My first night, I fell in LOVE with Kappa Delta, and one other chapter I won't name. I went back to both of them and two others the next night, dropped the other one I thought I liked because I realized I didn't the next night, then preffed Kappa Delta and one other one. I just knew KD was it for me. I didn't care that they were brand new (I was part of the first pledge class that the colony recruited), i just had a good feeling that this was a legit sorority.
Let me be even more long-winded and clarify that Northeastern's Greek Life when I went through recruitment was very non-traditional. I mean, it's a Northern private school. What do you expect? Kappa Delta and one other chapter were the ONLY ones that had a large national presence (KD being the bigger of the 2), and so even though we were brand new, we quickly began to pretty much kick ass. The year I was there we won Most Improved Chapter of the Year, and every year since then they've won Chapter of the Year.

Yep, I was a pale goober my freshman year of college. How I got a bid is still a mystery to me.


I've already talked somewhere on this blog about why and how I wound up at The University of Memphis for the rest of my college career, so long-story-short, I had to transfer. I couldn't transfer straight into a state school in California because of a minimum-credit-requirement, but I could also get in-state tuition at Tennessee schools because of my dad. I visited schools and chose Memphis. I affiliated with the Kappa Delta chapter there and LOVED IT. It truly felt meant to be.

Isn't it crazy how quickly my skin color changed?



At Memphis, I was elected Treasurer my sophomore-junior year, and Vice President, Community Service my junior-senior year.



I was chosen to be the Sweetheart of Kappa Alpha Order, and this handsome man, my best friend, was our Daggerman (basically our version of a sweetheart). It was perfect.



My beautiful little sis.



My pledge class was sassy.
Being in Kappa Delta saved me in college. It saved me my freshman year of homesickness. It saved me from myself a few times throughout the rest of my time in college. I had ups and downs, just like everyone will (especially if you get lucky enough to be on council/executive board), sometimes I wanted to quit, sometimes I wanted to slap a ho, but in the end Kappa Delta made me a better person. If it wasn't for KD, I wouldn't have some of my best friends. I also wouldn't have had the amazing community service opportunities I did while I was in Memphis and in Boston. I'm so proud to be a part of such a beautiful sisterhood, and I'm so happy to have an Alumnae Chapter here in San Diego!
I can't wait to read everyone else's posts :)
Have a good day, peeps. The weeks half-over!