I'm writing this from my bed, mainly because I feel like a total slacker for not having posted a damn thing this whole week.
It's been a doozy of a week, that's for sure.
I digress. I decided to do a
WILW
post again since, 1, it's Wednesday, and 2, I need some way to organize my thoughts in a logical manner.
Soooooo here we goooo!
First, I'm loving that I'm starting to finally get comments on my weight loss! Between a manager at work who's only known me for the last month saying she thought I just liked wearing really baggy clothes (because my work clothes are all too big on me now) and literally every person I see for the first time in the last few weeks/months telling me I look great (I even got called a skinny minnie the other day), I feel amazing about this whole thing!
I'm also loving that I finally switched gyms. I chose CHUZE, people! I love it.
Everything is new. It's all open and they actually turn their AC on, they have a special classroom just for spin classes, it's 20 bucks a month to be able to go to all locations and use the tanning and hydromassage beds, and it's my favorite color :)
Tomorrow will be the first day of going to the gym then straight to work, so we shall see how THAT goes...
Last night was an Incahoots night, which I'm also loving. I got to see my best friend in the whole world, listen to country music, drink beer, and play free pool.
I'm currently obsessed with the butt-part.
Lastly, I'm loving CND Shellac. But that's nothing new. First, let me show you what my nails look like after two weeks of my crazy life (which involves a lot of shit with my hands. Not to sound dirty or anything. I type all day at work, I cook pretty much every day, and I work with cars. Not very conducive to maintaining a manicure)...but....CND holds up.
Now for the new color, Cocoa. It's the closest thing to a nude CND makes, and I do wish it were a little less orangey and a little more nudey, but oh well. I like it. I also decided to keep the length of my nails for the first time ever, so we'll also see how THAT works out for two weeks...as you can tell from the above photo, my nails grow pretty fast.
Whatcha think?
OH MY GOD I ALMOST FORGOT one final thing I'm completely and utterly OBSESSED with this week is DANI FROM THE BIGGEST LOSER!!!! AKA my new hero. She looked aaaaaahhhhhhhhmaaaaazinnnnng!!!!! I was so stoked she won. She's an inspiration. She's gorgeous. She fought hard and was all alone without a team for a big portion of the show, and she freaking won that shit. Ugh. Obsessed.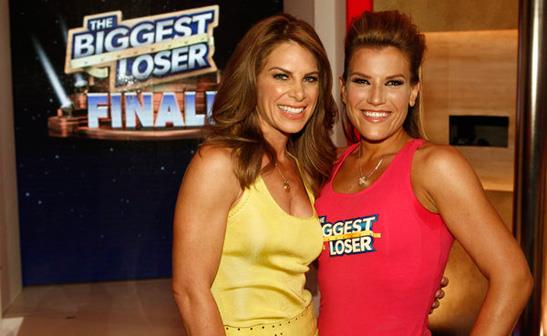 Oh and here she is with another hero of mine.