Happy Friday!!!
I'm going to recycle this pic from IG in case you don't follow me (which, btw, why the heck wouldn't you? Just kidding). Anyway. Here you go:
Yes, it was 90 degrees INSIDE yesterday when I got home from work, and I still did 30 Day Shred. It sucked. It was like I was in a sauna. The dogs kept licking me. And I'm pretty sure I dripped sweat all over the floor. But I'm now proud of myself. Let's hope I can keep this up.
Moving on. I need to get my hair done and I need your help. Go blonder? Or go brown? Chris says blonde, friends say brown. So to help you help me, I found this cool
makeover tool on Instyle's website
that actually works.
Here I am with blonder hair.......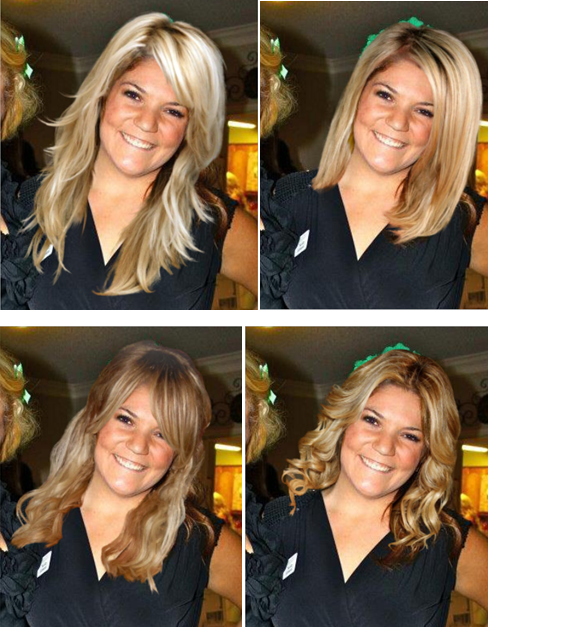 Ashley Olson, Taylor Momsen, Nicole Richie, Kate Hudson, thanks girls.
And here's some darker browns:
And these hairs belong to Tina Fey, Alexa Chung, Marisa Tomei, and Victoria Justice
So help a sista out!
Btw, can you now see why I can't decide whether or not to keep bangs or not??? I love the way I look with them, they just bug the effing shit out of me. And I can pull off a butt part, I just am a chicken shit.
Sorry for the profanities.
Anyhoo. I hope y'all have a fab weekend. I plan on going wine tasting today after work (duh.) because one of my sorority sisters from Memphis is in town!!! She and her husband came out to run the Disneyland half-marathon (yeah, they're athletic like that) and they swung down here to visit too :) I can't wait to see her!!! And then tomorrow I plan on laying in the sun and working on my tan (after I do some 30DS of course).
Love y'all!