Yay for Wednesdays!!! I'm working the 8-430 shift today because I have a meeting with the Kappa Delta Alumnae Association in San Diego tonight. Fingers crossed the women act like mature adults, at least moreso than the last time I was around them. It should be interesting, because they're forming a formal executive board and they've told me they want me to take on a position, since I held two council positions in college. I will gladly take on a position but I won't tolerate cattiness and bitchiness. So standby haha.
Anyway, since it's Wendesdays I decided to weigh myself and link up for Weigh In Wednesday. It's been a while!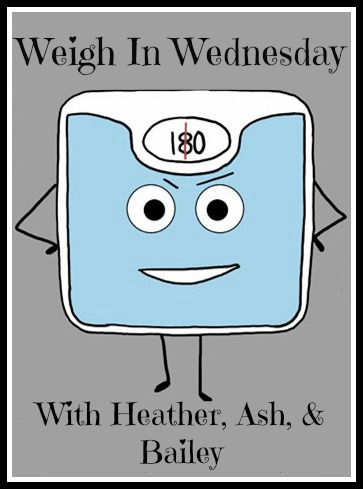 I'm thinking my scale is broken. It's been the same number for the last 3 or 4 weeks. Which means
I'm maintaining 20 pounds lost since the beginning of the year.
That's an accomplishment, but I know I could do better. But I did go for a run on Monday, and yesterday I took the dogs with me and power-walked the same route (about 1.25 miles). Nothing too crazy, but it's something.
I will admit, every muscle in my body hurts. It's crazy how quickly muscles build up and how quickly they go away when you don't use them.
On the topic of running, does anyone have any recommendations for something to hold onto an iphone and keys? I'm thinking of a belt of sorts, but I just don't know. Any suggestions would be greatly appreciate :)
I'll leave y'all with this little snippet of motivation:
Also, the CMA Awards are tonight. I won't be able to watch them until tomorrow, so don't expect an update from me til Friday, but I did hear this morning that they're considering getting new hosts next year. I totally get that, since this will be Brad and Carrie's like 5th or 6th year hosting. Totally understandable. What I do not and will not understand is if they replace them with Taylor Swift and Hunter Hayes.


My favorite:
I actually like Hunter Hayes. But he's so new. He's not at all right to be hosting the CMA Awards, which have been hosted by BRAD FREAKING PAISLEY and Brooks and Dunn. Sorry, little man. But I cannot stand Taylor Swift. It angers me that she's still considered remotely country at all considering the last 5-6 shit songs she's put out.
Sorry for the language. Moving on.
Check back tomorrow, I'm switching things up and talking about beauty stuff. Like hair and nails. Crazy, I know.
Happy Wednesday everyone!